100-H Immersion in Anusara Yoga with Courtenay Willis and Silke Wilson
Anusara® Yoga is based on an inspiring, life-affirming, non-dual Tantric philosophy that looks for the good in all people and all things, Universal Principles of Alignment that allow us to experience this goodness in our bodies, minds and hearts, and applying these inspiring teachings in daily life.  If you are looking for a practice that is challenging while remaining safe, that maintains a sense of flow while aligning our bodies in a powerful way, and that is adaptable to all ability levels and interests, then this is for you!  We also explore the profound yoga practices of pranayama and meditation. One of the best things we can do for ourselves is to develop a regular yoga practice!
An Immersion in Anusara Yoga is a series of workshops that cover in detail all the basic elements of philosophy and asana alignment technique for yoga in general and Anusara Yoga in particular. It is designed to provide a good foundation of practical understanding of Anusara Yoga for all serious students, and for those students who wish to enter an Anusara Yoga Teacher Training.  An Immersion consists of approximately 100 hours of class time and is the main prerequisite for taking a 100 hour Anusara Teacher Training.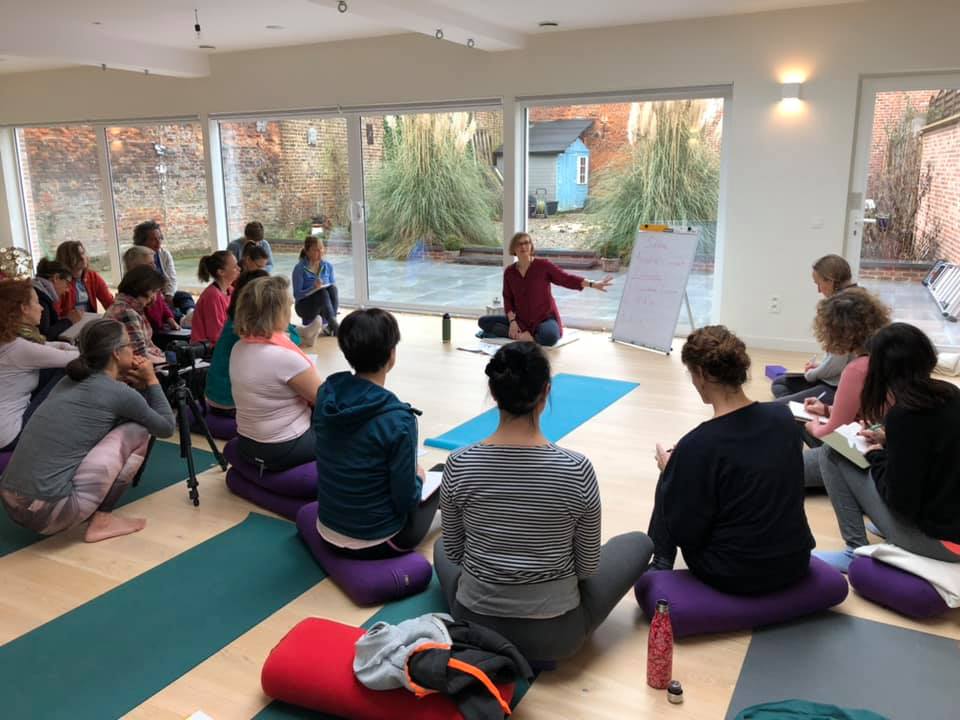 In the 100 hours of class time in the Immersion, we will:
~ Develop our yoga asana practice, getting stronger and more flexible while learning all the Level 1 poses and trying some more challenging ones, all with the support of the Universal Principles of Alignment
~ Learn the main breath practices of yoga and go deeper into the practice of meditation
~ Know our bodies more deeply and safely through anatomy study and the therapeutic power of the Universal Principles of Alignment
~ Study one of the oldest traditions on earth, the yoga tradition, including its foundations and its pinnacle in the philosophy of non-dual Tantra, a vision and practice that is ideal for this modern world
Who might enjoy taking an Immersion in Anusara Yoga?
~ Anyone who wants to take their hatha yoga practice to the next level, with the support of the Universal Principles of Alignment of Anusara yoga.
~ Yoga students who want to understand the context for our hatha yoga practice by reading two of the classic scriptures and exploring the pinnacle of the Indian tradition, the philosophy of non-dual Tantra or Kashmir Shaivism.
~ Anyone who seeks to experience the divine within the human heart through the effortless and natural practice of meditation.
~ Current teachers of yoga who want to learn a new style of yoga that is grounded in tradition and at the same time, in tune with the modern world.
~ Those who want to become hatha yoga teachers and are looking for a training program that is comprehensive and based on the finest principles of teaching available today.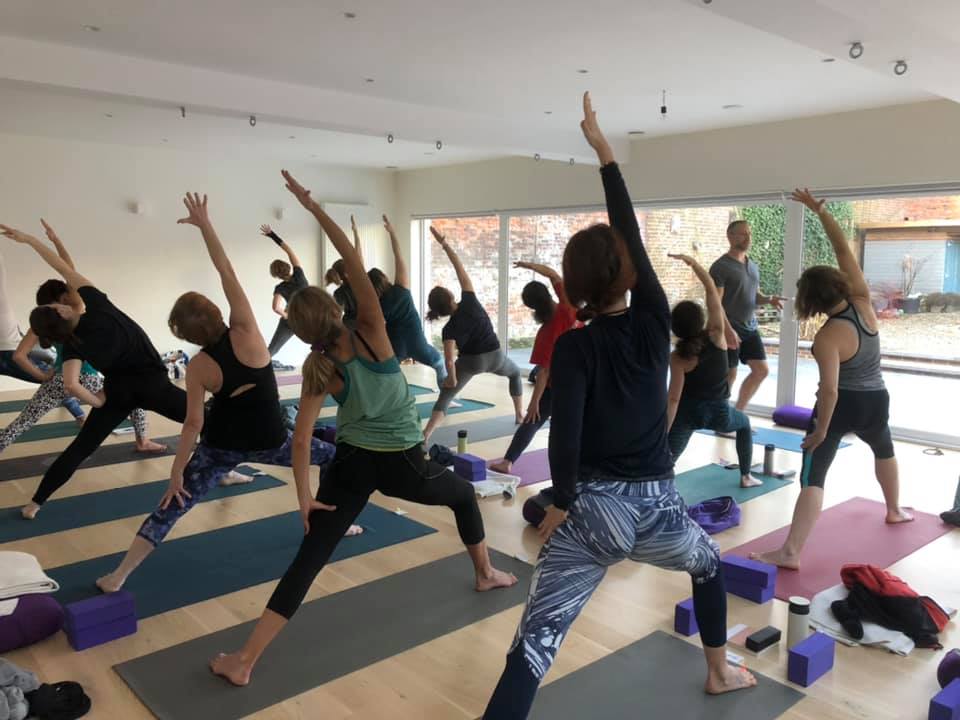 Immersion Content in 2023-2024
Part I – Foundations
The Foundations of our practice include just doing it! Each morning of the Immersion, we'll dive into a 2-hour practice focusing on standing poses, arm balances, and backbends, and each afternoon, it will be time for a combination of hip-openers, forward bends, and twists, with restorative poses and ballpark. The practices of pranayama and meditation will also be included. As we do all of the poses on our Level 1 syllabus of asanas, we'll be introduced to the two unique elements of Anusara Yoga: the Universal Principles of Alignment, which are applied to all the poses and are designed to make them both safe and profound, and the non-dual Tantra philosophy that is the foundation of all of our practice. We'll also begin anatomy study to see why the Principles of Alignment work!
Part II – Refinement
As we enter Part 2 of the Immersion, we'll go deeper into our practice, refining our understanding of the poses and the Principles of Alignment, and adding some Level 2 asanas to our practice. Yoga has three main elements: an experience that is called Samadhi, a set of practices designed to make that experience possible, and the theory or philosophy that provides the context for it all. In part 2, we look into the source of our practice and of Tantra philosophy by exploring a few of the main elements of the long yoga tradition, with a focus on its foundational text, the Yoga Sutras of Patanjali.  And we'll continue to refine our practices of pranayama and meditation, while also continuing our anatomy studies to learn the biomechanical foundations for the Principles of Alignment.
Part III – Expansion
We conclude our Immersion by expanding on our practices of asana, pranayama and meditation. We also explore all aspects of yoga through the great book, the Bhagavad Gita, and also have a focus on some unique tantric topics, like the subtle energy body and the chakras or wheels of energy.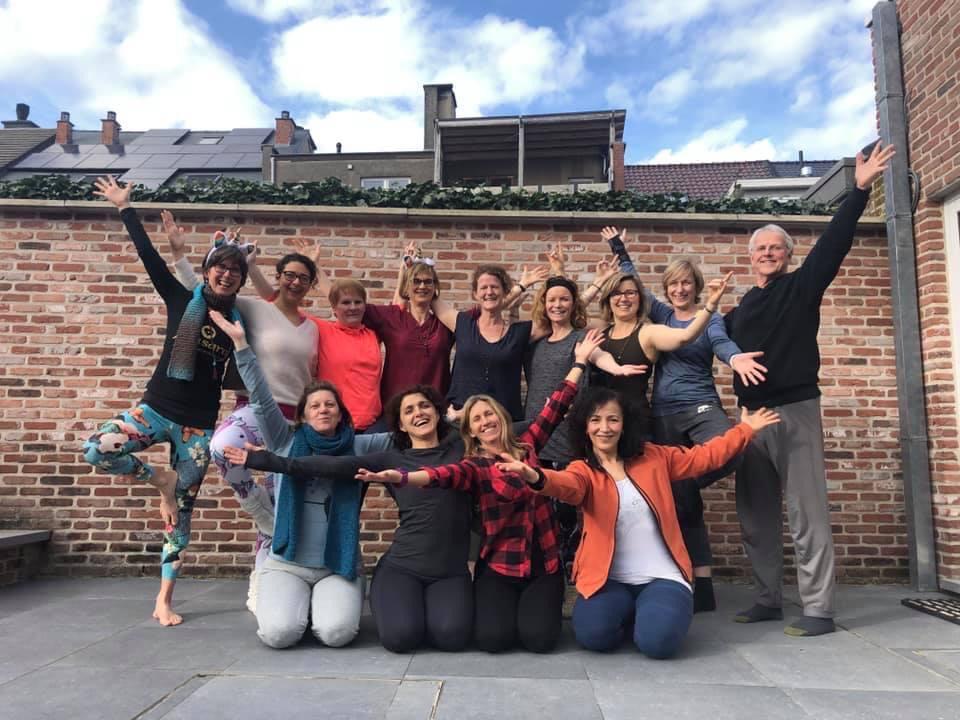 If you would like to receive more information about the 100-h Immersion or receive an application, please email Courtenay at
2023-2024 Dates:
October 21-22
November 25-26
January 27-28
February 8-11 (4 day session)
April 20-21
May 23-26 (4 day session)
Daily Schedule: 10:00 – 1 pm and 2:00 –5:30 pm
Immersion fee:
Cost:  1600 € if paid in full by August 31, 2023 (early bird price).  Otherwise, the full price is 1695 €
Returning students who have already taken a 100-hour Anusara Teacher Training are invited to take it again at half price, or can enroll in specific weekends for the weekend price of 180 €
Payment in installments is also possible totalling to 1725 €:  3 x 575 € payments:  each payment payable before Oct. 1, Jan 1, March 1, 2024
Our main text will be The Anusara Yoga Immersion Manual, which is available in English and French at www.anusarayoga.com.
Immersion Application: There is an application for the Immersion. It is short and easy to fill out. Please ask Courtenay for one at and then e-mail your application to her. You can also talk with her about payment information.
location: The Tree of Life Yoga in Tervuren www.treeoflifeyoga.be
Language: The Teacher Training will be in English.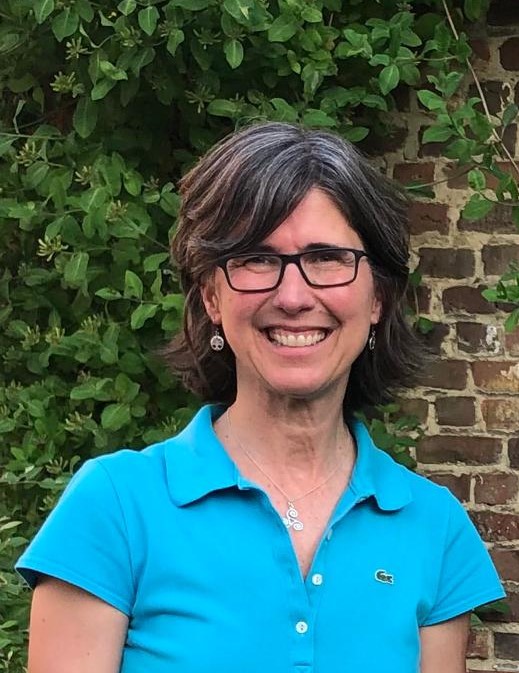 COURTENAY WILLIS
Courtenay appreciates how yoga helps her reconnect with her true self in the same way that spending time in nature does. Witnessing the awakening and self-discovery of inner awareness in students is what she considers so magical and rewarding. She is honored to draw on all of her studies and experiences to serve others in this beautiful yoga community and beyond, and hopes to empower and inspire others to do the same. Courtenay is grateful for all her teachers, but especially to Jayendra Hanley, who led her to the heart-centered practices of Anusara® yoga, and the life-changing philosophy of non-dual tantra. Born in the US, Courtenay is the owner, manager and visionary behind the Tree of Life Brussels, a certified Anusara yoga teacher and teacher trainer. She considers it a blessing to co-teach the Anusara teacher training alongside Silke Wilson, a longtime friend and colleague, helping students learn how to cultivate the teachings of yoga in daily life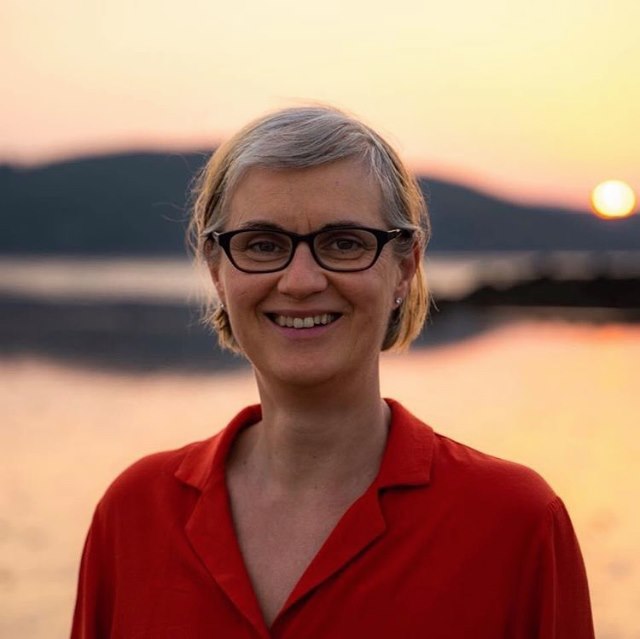 SILKE WILSON
Silke Wilson was born in a small town in Northern Germany. She now lives in Scotland with her Scottish husband and travels to teach abroad. From corporate life she entered the colourful world of Yoga with curiosity and longing for deeper understanding of the mystery of existence. Silke has been teaching people from all over the world since 2010. She is a Certified Anusara® Yoga Teacher and enjoys the way this heart-centered practice serves as a tool applicable to physical postures on the mat as well as a tool to be more effective in daily living by cultivating awareness and connectedness to one's own heart and that of others.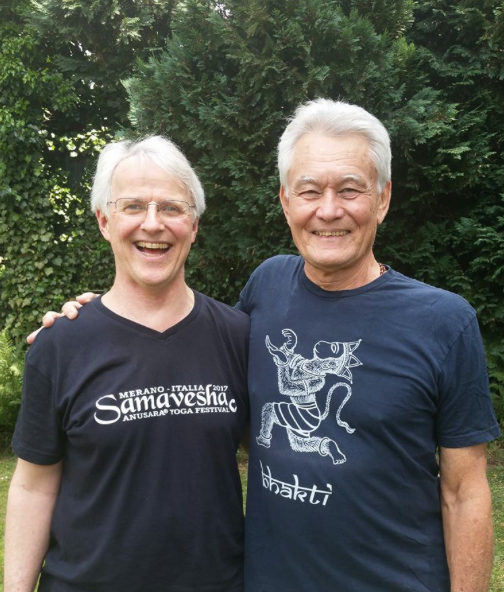 JAYENDRA HANLEY (guest teacher)
Jayendra Hanley (on the left, with his teacher Jimmy on the right) is a Certified Anusara® Yoga Teacher who began the practices of yoga and meditation in 1977, and began teaching yoga fulltime in 1997. He's also an authorized teacher of Neelakantha Meditation as taught in Blue Throat Yoga. Jayendra is now living in the U.S., but he lived in Amersfoort for many years where he taught at Bindi Yoga Studio. Jayendra has taught many 200-Hour Teacher Trainings in the Netherlands and elsewhere, and helped to create the 300-Hour Advanced Teacher Training for Anusara Yoga. He is also a skilled mentor for teachers who are on the Anusara teaching path. Students love the clarity and precision of Jayendra's teaching, especially when it comes to how to do and teach the poses, explanations of the philosophy of the yoga tradition, and the practice of meditation. For more information on Jay, visit www.jayendrahanley.com